I've always planned to do dining reviews, especially for some of the local locations we hit on occasion, but for some reason never got around to it. Often I think of it when I get crappy service or food, but I don't want to make it just a rant space against places – I'd like to be more even handed.
So recently we got to try out a place we had never been. We've heard about it by reputation, but not advertisement – it doesn't seem to get a lot of press that I have seen. But the Gibbet Hill Grill certainly deserves some press. I had heard about the place by word of mouth, but a gift certificate from my soccer team (thanks guys!) finally got us to go.

Gibbet Hill Grill (Groton, MA) isn't in a highly-traveled area, so it isn't going to get passer-by traffic. It is located on Route 40 just off Route 119 near Lawrence Academy, about an hour's drive northwest of Boston, a few minutes outside of I-495. It's menu is fashioned like an upscale steakhouse, such as Morton's, but without the upscale prices. Located on farmland, it grows some of its own vegetables and herbs and also sources as much as it can from local farms, both in the local communities and in greater New England for what it can't get locally. The seasonality of such will affect the various choices on the menu.
There are two parts to Gibbet Hill – the "Barn", which is available for functions such as weddings, and the "Grill", the main restaurant and bar. Neither is huge. I can't tell you exactly how the Barn is adorned, but the Grill is styled as a dressed-up barn house (which it likely was), with dark wood and stone and a large stone chimney in the center of the dining area. There is also an upstairs seating area covering maybe one third of the lower area, along with a small bar (maybe 8 seats – didn't count). Given the "countryside" setting, it would have been good to have more windows, but we were seated right across from a double-slider glass door that looked out onto the land as well as some boxes where they grow herbs. My only complaint about the seating – there were two two-tops along a short wall across from the doors, and we were seated at one – and the seats between the two tables were close enough together that one could not be seated or get up without striking the other.
We were on the early side for a weekday dinner (after years of getting up really early for work downtown, my meal schedule still tends to be on the early side), we didn't expect a crowd – although when we walked in, it looked packed – but apparently almost everyone was there for a wedding rehearsal and were hanging at the bar before heading over to the Barn. There was I believe only one other table seated, and one that was seated just after us. A few more came in later.
A good dinner starts with good service, and GHG prides itself on that. The waitstaff were friendly and courteous, dressed professionally but with a friendly attitude. Our server, who said we could refer to her as "Red", was ready when we were ready, was perfectly attentive, and asked us questions more than the requisite, "How is everything?" you get at any place – usually when your mouth is full. You don't get, "How is the temperature of your steak?" at a Chili's or Applebees. I did stump her momentarily on the beers on tap question, having to refer to her list for the final beer (Naragansett, which is totally forgettable – I ordered their house IPA made by an area brewery, which was a fairly typical dry-tasting IPA). We even heard another waiter apologize to the table next to us for having previously described the presentation of a particular item as being on a rectangular plate, when it turned out it wasn't. Who worries about that level of detail?
To start with you get a bread basket, which contains a couple slices of a nice Italian-style bread, and a couple hunks of cornbread. The cornbread was the perfect consistency, soft and held together, not crumbly or grainy at all. Normally we might have asked for more, but we also ordered a cup of New England Clam Chowder each as well. The chowder was good – tasty, perhaps could have used more clam meat, but nice and creamy and good overall.
I had decided ahead of time that I would finally order a porterhouse steak. In all my meat-eating years, I had never ordered one, but I had the appetite for it today. GHG offers it on two sizes – 24oz and 32oz. I wasn't totally crazy and opted for the 24oz, cooked medium rare. That's another thing – as a kid, if I ordered meat cooked to order, I always chose well done. I don't know why, but it seemed a good platform for ketchup. I eventually outgrew that and typically order medium, although if I am expecting a really good cut I might go medium rare – sans ketchup as well. I also chose the the garlic mashed red bliss potatoes and citrus-honey glazed carrots on the side.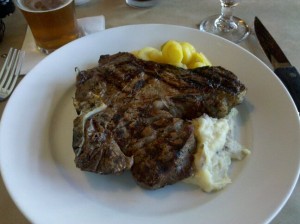 The steak came on top of a fair portion of the mashed potatoes, as can be seen. I generally prefer that the sides be separate, as I typically enjoy their flavors separately, but it didn't affect them as much as you might expect. The potatoes were good – you could actually taste the garlic, but I don't think it was overbearing. If you don't like garlic too much you may want to avoid. The carrots as you can see were yellow – I don't know if that was the actual carrots, or how they were cooked. They could have used a little more cooking – I'm not a fan of al dente carrots.
As for the steak, not knowing how a medium rare porterhouse should look, at first I thought it was overcooked. The first several cuts from either side were brown throughout, but they turned out to be perfectly juicy and tender, just as was the rest of the steak, which did get redder towards the bone with the meat immediately adjacent to the bone being near rare – but the effort to remove that meat was generally higher than the return so it didn't really matter. I ate mostly the tenderloin side first, followed by the strip. I only noticed a slight difference between the two, both being tasty on their own without needing any sort of sauces. I had considered retaining the remaining butter from the bread to top the steak but forgot and it had been removed, but as it turns out the flavor and the moisture were fine with just a slight saltiness (which is more to my liking anyways).
T ordered the sirloin tips (medium) also with the carrots and onion rings. The sirloin tips were tasty, cooked perfectly and tender. She had the same problem with the carrots, lacking flavor even with added salt. The onion rings were very good – nothing specifically that could be called out on them, just tasty.
We very seldom order dessert, so we left it there and headed off to Lowell for a date-night movie.
We will certainly be returning here again, especially when we get a hankering for a good steak (the ribeye is next in my sights, or the weekend-only prime rib) along with some of the appetizers such as the red wine braised short ribs or the crab dip. It's nice to have someplace of this quality without needing a line of credit…